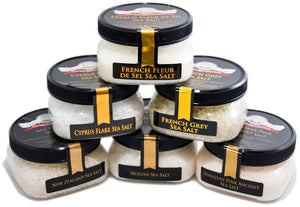 Natural Sea Salt 6-Pack: French Fleur de Sel, Cyprus Flake, French Grey, New Zealand, Sicilian, Himalayan Pink Fine, Caravel Gourmet
Tax included.
Shipping
calculated at checkout.
---
---
Experience the variety of colors, textures, and flavors of natural sea salts you can cook with from around the world.
FLEUR DE SEL:. Hand-harvested off the coast of Brittany, France, this salt is known as one of the world's finest sea salts.
SICILIAN SEA SALT: All-natural sea salt from the warm Mediterranean waters around Sicily, Italy. Traditionally used for cooking or finishing meals.
NEW ZEALAND SEA SALT: From the pure southern ocean waters of New Zealand, this gourmet sea salt is created through an evaporation process using the sun and wind.
FINE ANCIENT HIMALAYAN PINK SALT: A beautiful pink and with a distinctive taste due to its unique mineral content, this amazing salt is renowned for its nutritional and health properties.
FRENCH GREY SEA SALT:  An all-natural sea salt hand harvested off the coast of Brittany, France is considered one of the most mineral rich salts in the world.
CYPRUS FLAKE SEA SALT: This is an all natural flaky sea salt from Cyprus that is very delicious. The flakes crunch in your mouth when using as a finishing salt and it melts over warm or moist foods quickly.
These beautiful, all-natural salts are also available individually, as well as in some of our samplers.
FREE DIGITAL COOKBOOK: Every order includes a free copy of our our latest recipe book delivered digitally (via PDF) to your inbox after you order, featuring 29 of our favorite delicious recipes that showcase our award-winning salts and seasonings.
Founded in 2007 in the Pacific Northwest, Caravel Gourmet has quickly grown from a local brand to a national favorite by giving gourmet chefs and foodies alike the flavors they need in pure, natural salts they love. With Caravel Gourmet's specialty sea salts, your favorite foods become better, naturally. 
---
We Also Recommend
---