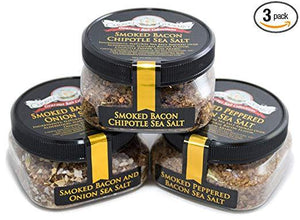 Smoked Bacon Sea Salt Combination 3-Pack
Tax included.
Shipping
calculated at checkout.
---
---
Do you need more bacon in your life? Do you love the natural smell of a campfire and the smoky fragrance and taste of BBQ? Then this set is for you!
SMOKED BACON CHIPOTLE: 
This blend of natural bacon, natural sea salt smoked over alderwood and infused with chipotle pepper flakes is a little spicy but not too much; the heat won't take away from the flavors. It will enhance the flavor of any meats, vegetables, eggs, beans, biscuit, gravy and baked potatoes, salads, or anything else you would enjoy with bacon! Our crazy popular smoked bacon chipotle pepper sea salt makes every meal taste great.
SMOKED BACON AND ONION: 
Natural sea salt, natural smoked bacon, spices, paprika, garlic, minced onion, and then naturally smoked over alderwood combine to create a sensational accompaniment to any dish. This blended seasoning creates an exceptional aromatic blend that's great on vegetables and salads. Perfect as a rub on meats, seafood. Sprinkle on eggs, baked potatoes, french fries, mix in with mac and cheese. A fabulous grilling, finishing, and cooking sea salt.
SMOKED PEPPERED BACON: 
If you want to take your bacon from good to great, use the flavor of natural bacon combined with wood-smoked black peppercorns and natural sea salt to create an amazing accompaniment to any dish. This blended seasoning is excellent on vegetables, salads, and eggs, and great rub on red meats. Blending our Smoked Bacon Sea Salt and Tellicherry Peppers has never tasted better. An amazing accompaniment to any dish. Use as a cooking or finishing salt.
These bacony salts are also available individually, as well as in some of our samplers.
---
We Also Recommend
---